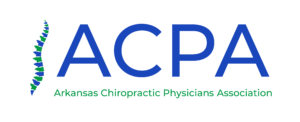 The Arkansas Chiropractic Physicians Association is a non-profit organization dedicated to promoting healthcare choice for Arkansans while insuring the rights of chiropractors to continue to provide quality chiropractic care. The ACPA seeks to educate the public regarding the practice of chiropractic, its many benefits and impressive safety record.
The Association conducts chiropractic continuing education seminars of the highest quality, representing a variety of topics from research to radiology, including various practice philosophies and techniques, with a focus on subluxation-based procedures.
We are vigilant in protecting the rights of chiropractors to continue to practice within the broad scope of Arkansas chiropractic law, and employ a full-time lobbyist, Mr. Robbie Wills, to enable legislation to insure improved assess to chiropractic services, and eliminate discrimination toward the profession.
Additionally, we support new and experienced doctors with a mentor program and offer reduced membership dues for first and second-year practitioners to assist new chiropractors in developing practices.