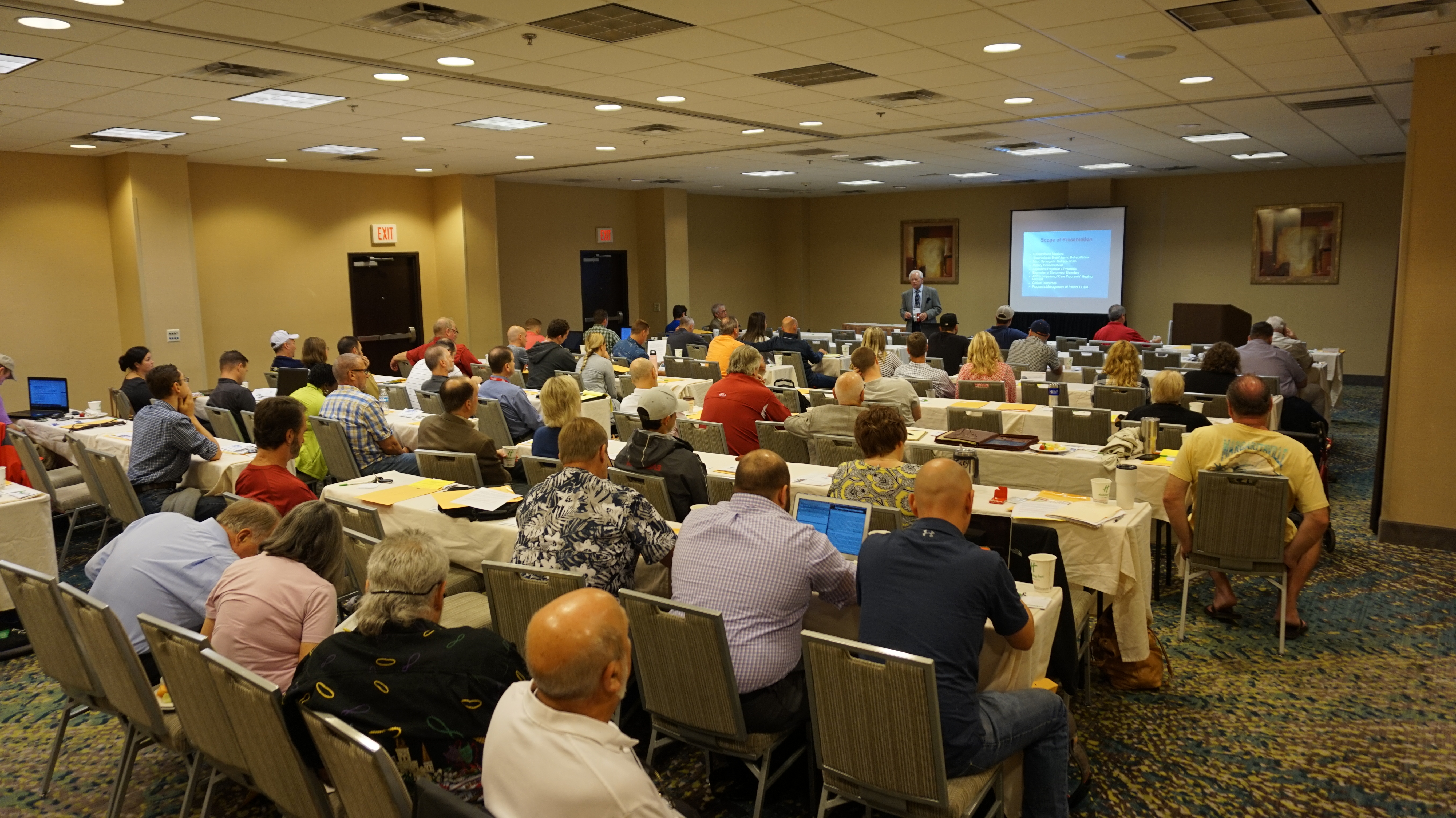 October Seminar
October 5, 2019

-

October 6, 2019
The Arlington Hotel
239 Central Avenue, Hot Springs, AR 71901
Room Rates: $99 Single or Double
Cut-Off Date September 20th
1. Sat    8am – 12pm     Dr. Krik Larsen    4 hours
2. Sat    12pm – 8pm    Dr. Kirk Gair         8 hours
3. Sun   8am -12 pm    Dr. Kirk Gair         4 hours
4. Sun   12pm – 8 pm  Kelli Moore            8 hours
Speakers:
Saturday, October 5th – 8 am – 12 pm
Upper Extremity Stress – 4 hours
Presented By: Dr. Kurt Larsen
Dr. Larsen has been in private practice since 1983 in the Hot Springs Village area. Chiropractic Craniopathy and Sacro Occipital Technic is the specialty he has utilized to evaluate and address 100%
of the nervous system. This indicator based system can be incorporated into any Chiropractic method. Larsen has attained multiple certification status levels through SORSI, the organization founder Dr.
DeJarnette began to carry on his work. Larsen began teaching though SORSI in 1988 and continues extensive seminar instruction through Foot Levelers since 2004. He also teaches a Pediatrics module
as part of the ICA diplomate in Pediatrics 30 weekend program as well as a stand alone seminar for state associations. The feedback and survey response from Dr. Larsen's hands on seminars has been excellent. His greatest joy is when a participant really 'gets' something and ends up helping a patient with it.
Saturday, October 5th – 12 pm – 8 pm
Sunday, October 6th – 8 am – 12 pm
Simple and Quick Laser Techniques to Get Weekend Warriors, Youth, and
Elite Athletes Back from Injuries & Enhance Sports Performance -12 hours
Presented by: Dr. Kirk Gair
Sponsored by:

Dr Kirk Gair has been in private practice since 1999 and began using Erchonia cold lasers in 2004. During that time, he has worked with athletes of all levels, including Super Bowl Champions, MLB champions, High School wrestling National and State champions, college and high school football, baseball, and track champions and record holders, and with the Dodgers/Angles Fantasy Camp. Due to the results he gets with his laser protocols, he has a wait list, 100% referral practice. In addition to treating top level athletes, he has also completed additional training in functional medicine and
functional neurology under the guidance of internationally acclaimed Dr. Datis Kharrazian, and has patients come from all over the US for help. He appeared in Dr. Izabella Wentz's documentary, The Thyroid Secret, which was seen by over a half million people worldwide. In it he discussed the cold laser methods he uses on complicated thyroid and brain cases. Dr. Gair's methods were also discussed in her best-selling book, Hashimoto's Protocol. He has also written articles for the Hypothyroid Mom website, which has over 1 million followers, and his Facebook page, www.Facebook.com/ThyroidInfo, has over 9,000 followers. He has also been featured on podcasts by Thyroid Nation, Rebel Health Tribe, and The Thyroid Pharmacist, Dr Izabella Wentz.
Sunday, October 6th – 12 pm – 8 pm
MediScare Decoded Be Prepared, Not Scared! – 8 hours
Presented By: Kelli Moore
Kelli Moore is a by-the-book compliance specialist and consultant who serves as the insurance and compliance "go-to" person for the Texas Chiropractic Association, sits on the Carrier Advisory
Committee for Novitas Solutions (a Medicare carrier) and is a sought-after public speaker; teaching on a variety of subjects that revolve around compliance, documentation, office systems, advanced
chiropractic assistant training, HIPAA, Stark Law, False Claims Act, Medicare, CPT Coding and more. She first became involved with chiropractic as a chiropractic patient and success story in 1996.
Shortly thereafter, realizing the value of chiropractic, she began her career as a chiropractic assistant. It didn't take long to understand that insurance payers and attorneys regularly took advantage of the unsuspecting chiropractor by using a plethora of denials. She found it completely unacceptable for payments to be denied due to lack of medical necessity. This started her on the path of creating a compliant documentation system to support medical necessity and eliminate payment denials. This approach was so successful that she was able to quadruple the practice income. Word spread like wildfire within her local community and she found herself helping the neighboring clinics; eagerly sharing her documentation forms and systems. This expansion led to her owning and operating multiple clinics in multiple states.
Pricing
Early Bird (Prior to Sep 20th)
(ACPA Member)
Up to 6 hours $79
6-12 hours $129
Over 12 hours $149
(Non-Member)
Up to 6 hours $99
6-12 hours $149
Over 12 hours $189
CAs $25
Regular Registration (After Sep 20th)
(ACPA Member)
Up to 6 hours $99
6-12 hours $149
Over 12 hours $169
(Non-Member)
Up to 6 hours
$129 6-12 hours
$169 Over 12 hours $209
CAs $35